After 44 years Taylor Business Institute Switches Accreditors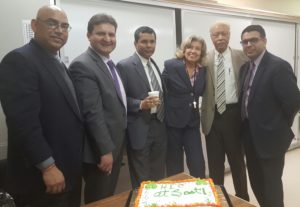 Taylor Business Institute (TBI) after 44 years switched accreditors from the Accrediting Council of Independent Colleges and Schools (ACICS), to the Higher Learning Commission (HLC).  This move culminates an over ten year strategic initiative undertaken by TBI's Governing Board and its college community to position Taylor Business Institute to better serve the students that its mission of empowerment attracts.
Taylor Business Institute is an associate degree granting college that primarily educates adult learners to the college's career focused, degree offerings and its vibrant English as a Second Language certificate program.  Currently Taylor Business Institute's campus welcomes students from over thirty-five (35) countries.
Having HLC accreditation was viewed, by all concerned, as a critical, value -added step in providing the college's graduates a broader range of transfer credit options for them to continue learning at other colleges and universities within the United States.
Taylor Business Institute's students, faculty, staff, management and Board of Governors wish to thank its alumni, friends, employers, advisory board members, community partners, and above all the Higher Learning Commission for helping make the "empowerment" word in the college's mission statement even more powerful.
Please click here for more information regarding our accreditation with the Higher Learning Commission.